Types of Inline Skates – You need to know
Jun 10, 2021 by eagleskates
As you start reading, you have interest or confusion about the types of inline skates. Otherwise, the reason could be buying an inline skate unless you have eagerness to learn something that are unknown to you. So, here I described the different types of inline skates to add value to your interest.
Skating is a sport where versatile activities exist Roller Skating. But, in this article we will focus on Roller Skating and its types and detailing onward.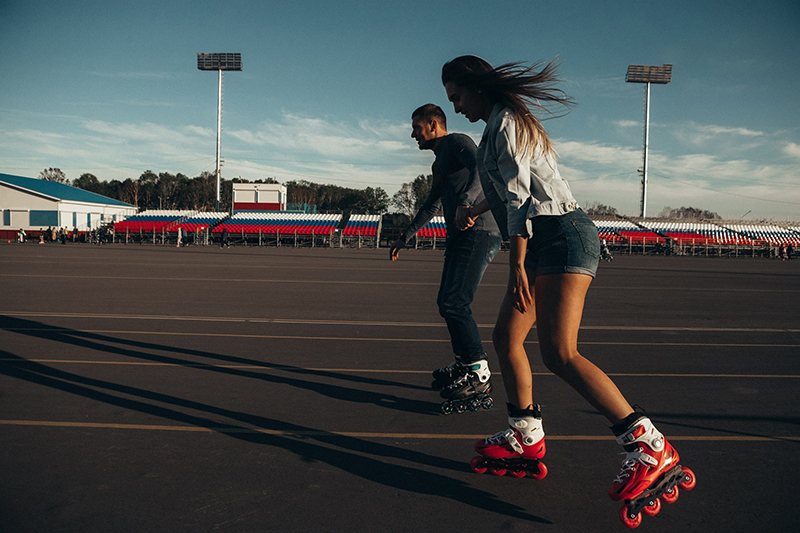 Inline skating and Inline skates
Inline skating is a part of roller skating where wheels are aligned in a single line. A metal frame is used to make sure the wheels are inline. Inline skating is also known as "Rollerblading" and mostly used for speeding, whereas roller skating (quad skating) are quite slow moving.
Inline skating could be recreational, fitness, aggressive, hockey or speeding movements using inline skates. Inline skates are those boots which are used as for skating events.
What is the difference between normal boots? Well, normal boot does not have any wheels underneath whereas inline skates have. Generally, it has 3-5 wheels organized in a line.
Purchase from home! Find the right urban skates, freestyle skates and Skating Equipment from online shop. Grab a pair of skates from here.
Types of Inline skates – You need to know
According to age limit, you can broadly divide inline skates into two main categories. (1) Kids Inline skates and (2) Adult Inline skates.
Kids Inline skates
Mostly, inline skates for kids are focused on all the features that are suitable for skating beginners. There is no use of design that are close to speed skating or aggressive inline skating. The materials of kids inline skates are kids friendly.
In short, kid's inline skates are the smaller version of adult inline skates excluding advanced feature such as wheel size and Adjustable boots.
Adult Inline skates.
Broadly there are 3 types of Adult inline skates: Recreational skates, Racing skates, Hockey skates. Though there are three main categories, you will find some other types of inline skates available. These are as follows-
1. Recreational/Fitness inline skates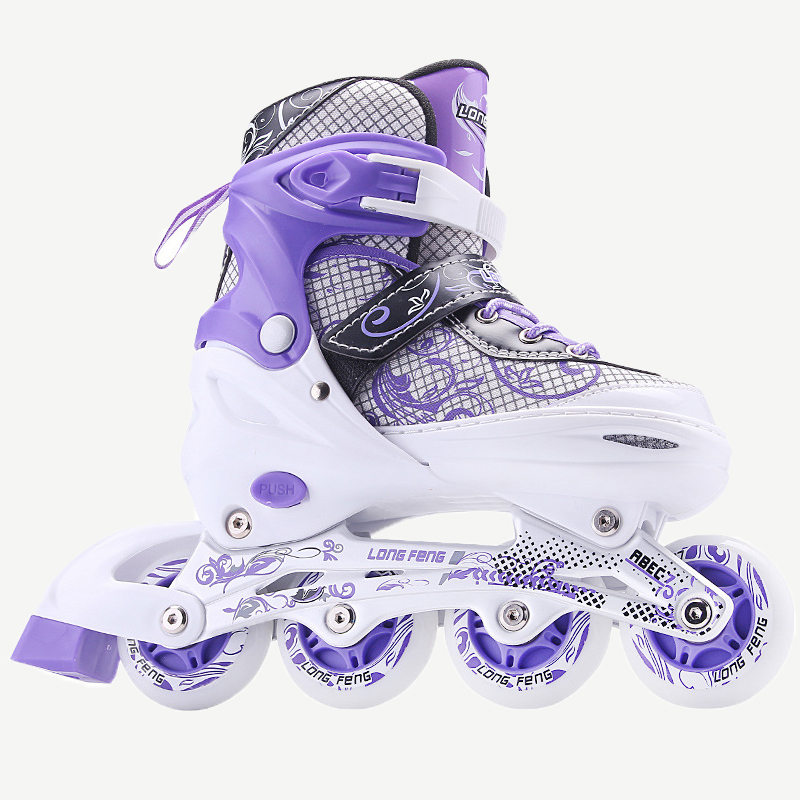 Recreational inline skates are used on the bike lane, roads or flat ground for recreational or fitness purpose. It is really easy to guess when anyone heard the term Recreational inline skates. These type of skates are used for interest in solo skating or event skating. Sometimes, they also termed as Fitness skater. These type of skater try to skate with 10 – 20 miles per hour on average.
The recreational is one of the most common inline skates in the market. I think you can familiar with the category. But, here I can tell you some more details about it. The wheel size of Recreational or Fitness inline skates are moderately small. About 78-84 mm.
Moreover, you can find those recreational skates with higher cuff and soft boot design.
Pros

Cons

· Comfortable

· Lacing is easy and fast

· Low price

· Smooth riding

· Lots of grip

· Limited use

· Not upgradable

· Not suitable for heavier people

· Not suitable for long distance
2. Urban skates/Free skates
Want to skate around town?
Typically, with full hard-shell skate
Have removable liner and large cuff
Traditional frame and wheels are there
Usually have slide protectors to give the stability to the boots
Quite familiar with aggressive inline skates
Used for Urban commuting or to perform some tricks and slides
About Wheels of Urban skates:
Typically, you will find 4 × 80-84 mm or 3 × 100-110 mm. Recently, it is becoming pretty common that 3 big wheels in the Urban inline skates. As a result, you can feel more height and less wheel base to better rolling and handling rough surfaces easily.
Pros

Cons

· More stability on taller frames

· Suitable for both intermediate and advanced skaters

· Adjustable: Swap or change with any 165 mount frames

· Harder boot provides better than softer boots of other inline skates.

· Price is bit higher than other traditional inline skates

· Not for beginners
3. Aggressive inline skates
Aggressive inline skating is a part of inline skating and also known as rollerblading/blading/street skating/freestyle rolling. Aggressive skating mainly based on trick. If you want to know the history of first aggressive inline skates, then the next information might help you. The first aggressive inline skate announced by Rollerblade in 1988 [source].
Aggressive skates contain quite smaller wheels than a general inline skates. Smaller wheels provide a flat and easy ground landing when you try to jump from a decent height. Moreover, these inline skates are specially modified to accommodate large gaps. You can identify it by finding a gap between 2nd and 3rd wheels. This gap has a special name H-Block which helps to grind.
H-Block will help you in the sliding tricks with full of confidence, for instance. You will find a solid plastic exterior on the sole of the boot termed as "Sole plate" or "Soul Plate" allows grinds parallel to the direction of the wheels.
Where to use an Aggressive inline skates? Aggressive inline skater mostly performs skating in the street, park and vert.
If you are interested about Aggressive inline skates, then some key points for you -
Best for trick use in the skating events
Provides heavy duty
Most durable
Smaller wheels
Quite flat wheels that helps landing especially when a surface made with concrete.
4. Freestyle Inline Skates / Slalom skates
Freestyle Skates are used for doing fancy slides. You can grab these type of skates with mid to high budget range. It would be more known as Slalom skates. These skates made up with moderately hard-shelling.
Here, you will catch soft top design and rigid lower design, which is less durable than Urban or Aggressive inline skates.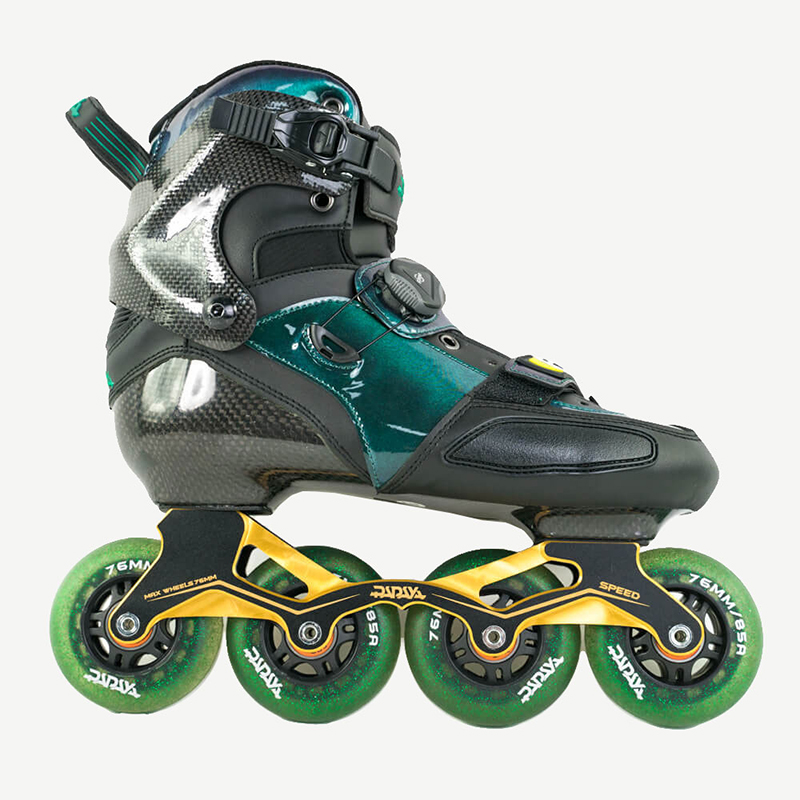 Freestyle skating also known as Slalom skating. Showing tricks around equally spaced cones that are arranged in a straight line by Slalom skaters.
Freestyle skates are usually executed on the flat area or grounds or events that are organized by International Freestyle Skaters Association (IFSA).
IFSA considered 3 main variations of this category –
Freestyle Slalom
Speed Slalom
Free jump.
With Freestyle Inline Skates or Slalom skates, you will do following slalom moves -
Basic

Beginner

Intermediate

Advanced

Master

· Forwards Criss-Cross

· Alternating Forwards Cross

· Double Cross

· Forwards One Foot

· Forwards Parallel (Fish)

· Forwards Monoline (Snake)

· Backwards Monoline (Snake)

· Forwards Shifted Cross

· Backwards Shifted Cross

· Backwards Parallel (Fish)

· Forwards Heel-Toe Snake

· Forwards Heel-Heel Snake

· Forwards Heel-Toe Criss-Cross

· Forwards Toe-Toe Snake

· Eagle

· Double Crazy

· Backwards One

· Crazy

· Grapevine (Mabrouk)

· X Jump (Crab Cross)

· Nelson

· Miniman (Small car 5 Wheels Sitting)

· Pendulum

· Nelson Back

· Nelson Transfer Back (X-Back)

· Double Crazy Back

· Forwards Stroll

· Backwards Stroll

· Sun

· Italian

· Volte

· Wiper

· Alternating

· Cross

· Oliver

· Brush

· Crazy Sun

· Chicken Leg

· Mexican

· Footspin

· Special

· Cobra

· Butterfly

· Christie

· Kasatchok

· Heel Wheeling

· Grabbed Heel Wheeling

· Screw

· Toe Wheeling

· Grabbed Toe Wheeling

·
Pros and Cons might help you more about the Freestyle Inline Skates –
Pros

Cons

· Maximum customizable for frame positioning

· Integrated liner available

· Smaller cuff

· Hard to clean

· High price
5.Speed Skates / Marathon inline skates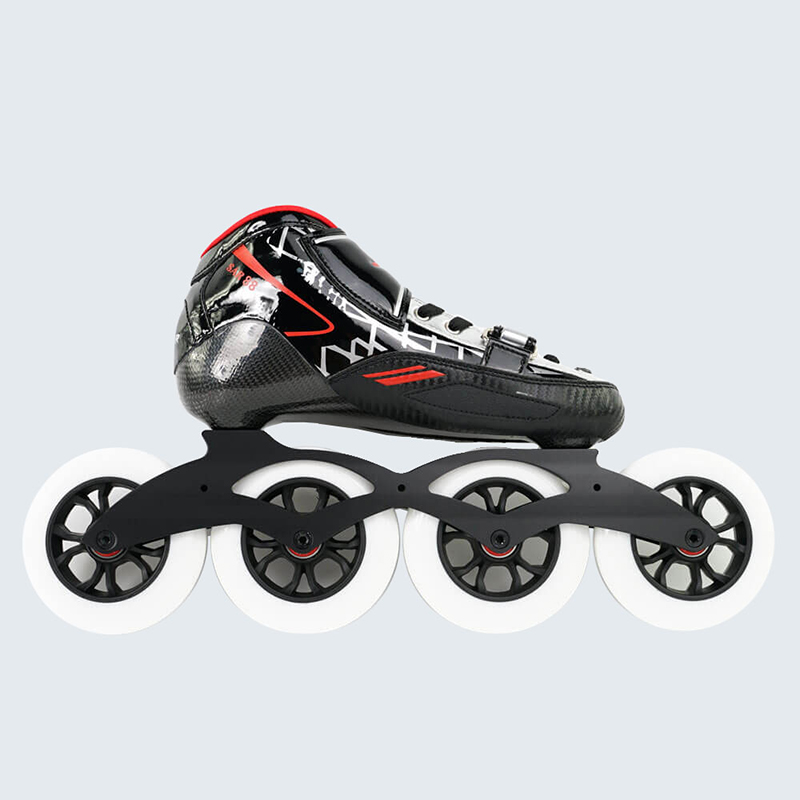 Light padding
Low cuff
Light weight
Well-screwed frame. Adjustable positions are available for frame.
Longer frame (More than 12 inch long). Longer frame will give you more stability during Marathon inline skating. Otherwise, it would be harder for you to maintain balance on the ground. That's an obvious one.
Large wheels (100 – 125 mm) with better bearings with quality performance for more durability. Generally, 3 – 4 wheels are there.
You will find the wheel formation as: 4 × 110 mm or 3 × 125 mm