Should I choose Inline Skates 3 Wheels or 4 Wheels Roller Blades?
Jul 14, 2021 by eagleskates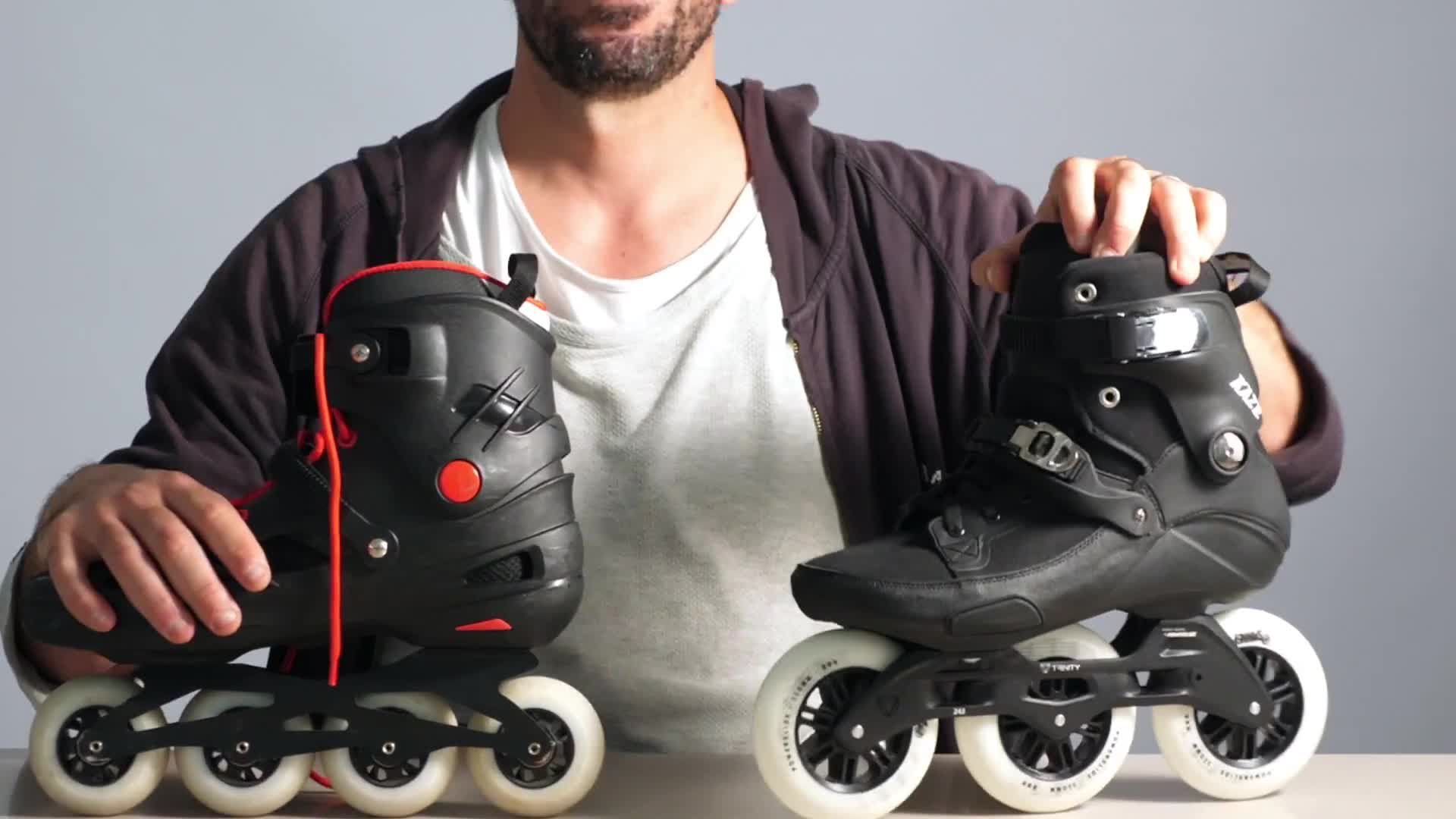 No doubt, inline skates 3 wheels look much stylish or attractive compared to the one with four wheels. So it is typical behavior that people will most likely prefer to buy tri-skates for the same reason. But, the main point of concern is whether their decision is right?
Generally, these types of buyers do not have much idea about the different kinds of roller skates available in the market. They pretend every model is similar to some changes in them.
Another case might be the fact that you already have an idea about such kind of inline skates. But, still doubting mind what to choose in between four-wheel or three wheels skates!
Hence, your case might match with the above conditions. Or, you might know anyone who wants to buy a pair of inline skates but looking for some help in selecting the right type.
So to save money and future hassles, then you are in the right place! Buy reading this post; you will come to know about the details and differences among roller skates three wheels and four wheels. You will also get the tips on what to buy in between three-wheel and four-wheel inline roller skates!
What is best among Three or Four-Wheel Roller Blades?
There is always a point of debate on many social forums among skaters about which three wheels or four wheels inline skates are the best to consider! Many people are asking about which one among them would be a great all-rounder option! After all, it is required to clear all the doubts before finalizing anything new.
No one wants to be a person who got inspired by someone else! Be it a friend who asked you to go with an inline skates three wheels model, but later after using it, you regret your waste of money!
The situation can happen with anyone with less information about the products. So the best practice to decide what to buy is first to consider all the details about the products. Also, it is essential to know for what purpose they have been made for a user!
Before buying anyone, you must know that both the inline skates 3 wheels and 4 wheels come with their advantages and disadvantages. So it depends on the user to user about which particular type will be suited the best to serve the purpose! Let us get familiar with each of these commonly used skate's basics, pros, and cons. These are also in high demand among skaters worldwide for different uses;
An Outlook on using Roller Skates Three Wheels Models
If you love speeding, then you should pick three wheels skates. It is designed to help the user benefit from a long stretch on every stroke due to the availability of wheel sizes that range between 100 mm and more.
By the way, the general wheel size is 80 mm for beginner recreational skates, 90 mm for fitness, and 110 mm for racing. You can also lift-off on these faster as compared to a massive 4 or more wheel skates.
On the negative side, Tri-wheel skates are high priced because they consist of large-sized wheels that are cost higher. The next big con to consider here is three wheel inline skates are less stable in use as compared to 4-wheelers. So a person will need more time to advance the skills required while skating on them.
What should you know about 4 Wheel Rollerblades?
We can find the most common setup in different models of inline skates ranging from recreational or aggressive ones. Whatever cons that we saw in inline skates three wheels are the pros in this model.
These are more stable as compared to three-wheel inliners. Hence, it is the right choice if you desire for aggressive skating. These pair of skates offer better weight disbursement. So, you can do both slalom and freestyle skating on them.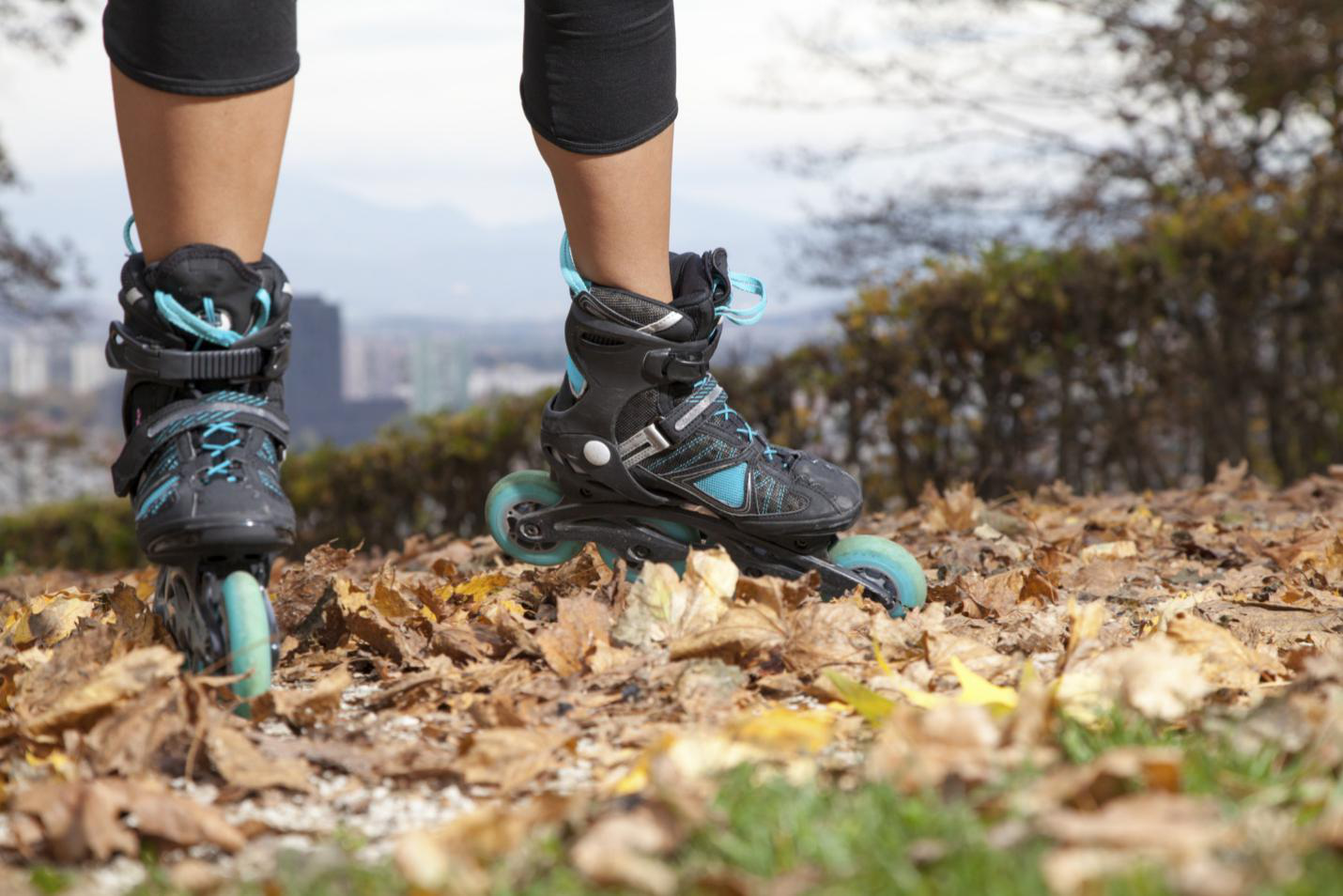 A newbie can learn skating on four wheel roller blades very easily and can master with faster. It is also the right choice if you are resuming skating after a long time. It is a must-have for those who want to learn everything from the start regarding skating techniques.
No coming to its opposing sides, you will not get a smoother lift off on high speeds since it demands more strength. The wheels available on these skates are smaller here with a maximum size of around 100mm, not more than it.
Thus, these are not a good option if you are looking to cover long distances quickly while riding on four wheel roller blades with astonishing speed. After all, it is hard to maintain high speed while traveling on it at a faster pace.
Why should you Choose Three Wheel Inline Skates?
The use of fewer wheels in the same sized frame can make it possible for the manufacturers to launch new inline skates three wheels models having bigger wheels. These go beyond 110 mm to 125 mm, making them better to glide, lighter in weight, and achieve more speeds in a shorter wheelbase.
Larger wheels mean less number of rolls and hence less rolling resistance to cover a distance in Three wheel Rollerblades as compared to 4 wheel skates. Your feet can make you feel more relaxed. So they are fit to cruise for a long time on open trails and many other purposes. It includes workouts, urban, marathons, fitness, and speed skating.
The best part about the tri-skates is that these come with bigger wheels. These are placed on a big frame beneath their boots. The bigger the wheels on your skates, the faster you can travel on them.
It is good to have wheels placed under the boots to get more maneuverability than the ones that go beyond this. Here, maneuverability is the term used to find how much effort or power a user needs to apply using the foot and body while turning the skates. It also depends on the size of the turning circle to perform the same activity.
Today's inline skates three wheels are much comfortable to take a sharp turn in case of a smaller turning circle. Hence, to get more speed to the skates, makers have removed four medium or small wheels beneath the boots and fitted the same with three bigger ones.
Three wheels are useful to gain faster speeds on flat, uphill, and downhill. It helps you to Ride smoother and with less vibration. Due to the larger wheels, they can last for a longer time since more rubber is provided to add on their diameter.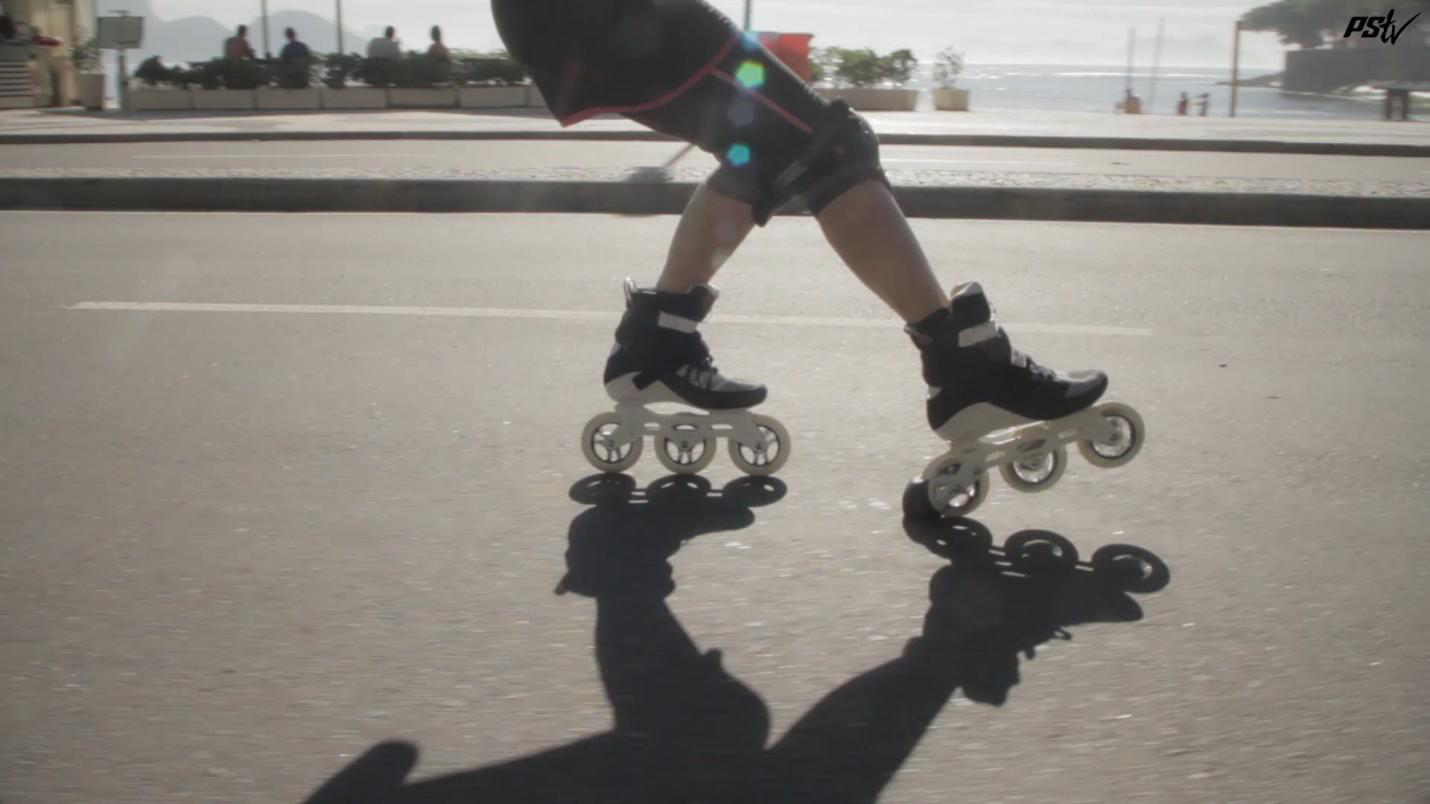 When do you need to go with Four Wheel Roller Blades?
The chances of instability and danger are much more if you will directly use tri-skates without the necessary skills. So try to consider a simple science. It is the truth that to get more grip and stability, and you need to use the skates that come with broader and smaller wheels like for kids or amateurs.
Not only this, but they are also suitable for you to perform some tricks and travel on-ramps. So, in this situation, there is no need for high speed larger wheel skates or inline skates 3 wheels. By the way, four wheel roller blades will also perform better as your fitness and recreational skates.
They will help you to reach good speed with wheels of size 76mm or 80mm. If your priority is to buy only a highly stable pair of skates, try to choose ones whose wheels extend from both back and front. So this can help you to wobble more and how high you can go above the ground.
Four-wheel inline skates are the best for hobbies or fun for roving on parks, streets, or participating in group skating or related events. But these are not technically made to perform well on race tracks to help you win it with ease. Modern 4 wheel inline skates are closer to the ground and well suited to ride on surfaces such as smoother asphalt or indoor concrete floor.
Which one among Three Wheel and Four Wheel Roller Blades is the Best?
Many people make the mistake of buying 4 wheel inline skates with larger wheels, probably 90mm - 110mm. It is to get the benefits of both speeds with the advantages of having four-wheel skates. However, they miss considering the same from a technical perspective.
Bigger wheels on three wheel Rollerblades demand higher frames to fit well. So, bigger wheels can add more height below your feet from the ground, also they usually go beyond your foot. Neither will you be going to get better stability, nor can you take some tight turns whenever required while skating on them. They might not be that comfortable to use as compared to simple three-wheel or four-wheel based skates!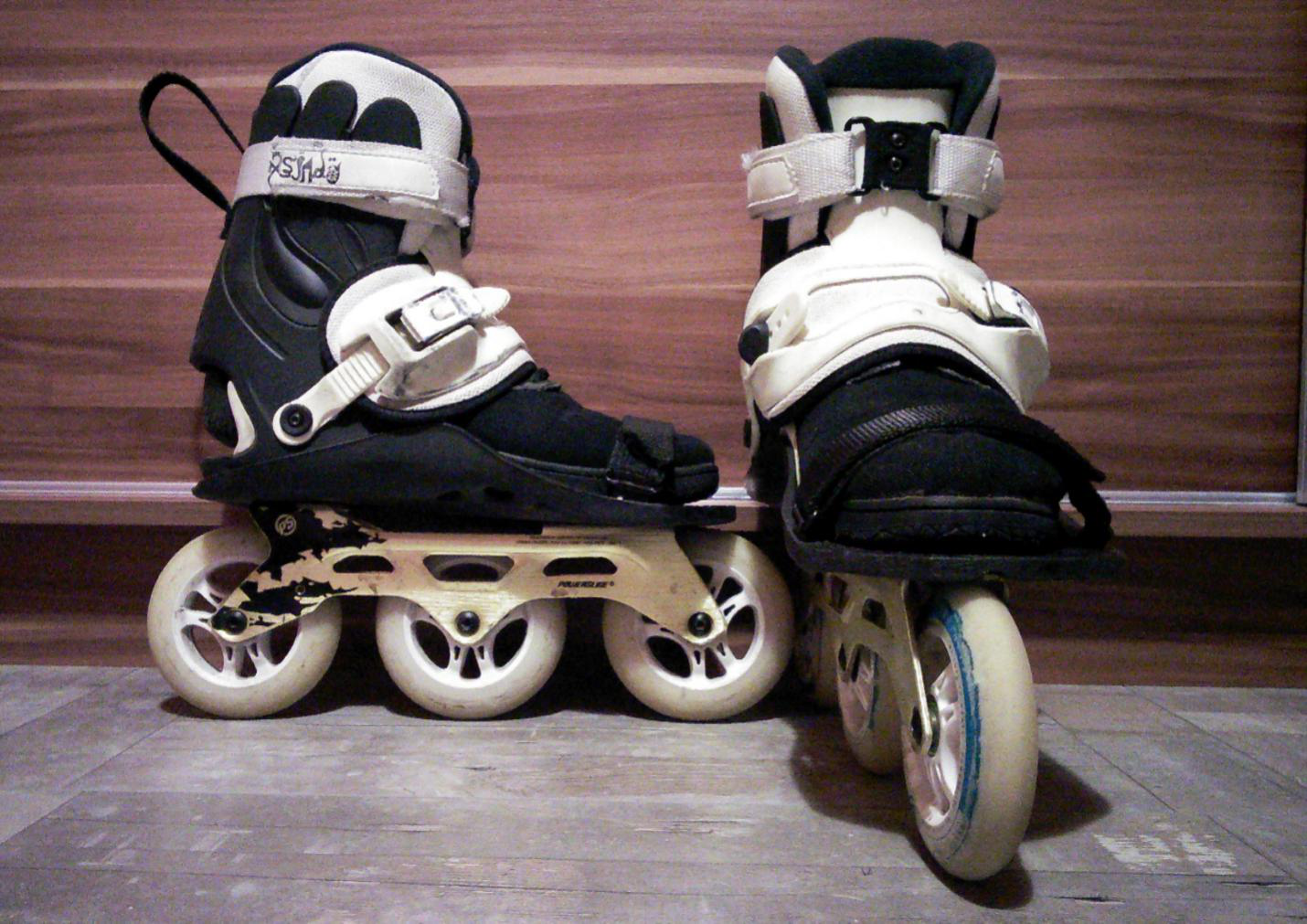 You can also go with freestyle skates for learning the abilities. Once you get enough confidence, you can update their wheels to try balancing on the same set of skates to tackle less sturdy boots. Once you are all fit to use it, it is the time to switch to a much comfortable alternative, i.e., Three wheel Rollerblades.
To understand their logic, we can compare and relate them to the kid's cycle. Usually, they are available in two types. One is tri-cycle with more wheels on it, so it is more stable and helps your children fall off quickly, but lacks in speed.
But, in the condition of a bicycle with fewer wheels, it can easily maneuver and run faster but needs more balancing from the rider. So it is not a logic about more wheels will be better, or fewer wheels in your skates will surely come at a lower price!
Bonus Tip
If you are still confused, then it is not a bad idea to have a pair of both kinds of rollerblades with you. So that whenever you want to try something, fury then chooses inline skates three wheels. Otherwise, when you do not want to compromise with the stability, then four wheels alternatives should be worth to wear on your feet before a ride.
By the way, you must have complete knowledge about the basics and enough practice to perform well on any skates. Different kinds of skates are made to help you get extra benefits to make the best use of your polished skills and not make it better with time.
So if your techniques are not precise on 4-wheel skates, they will result in many more problems on 3-wheel inline skates because of the added height. The ultimate decision to get a pair of skates must entirely depend on the skating you choose as well as your skating skills!
Conclusion
You can research the different types of skates that are available to buy these days. You will come to know that Stakes starts from 2 wheels and can be designed up to 6 wheels.
However, not all of them are commonly available in every market. After all, manufacturers generally want to produce items that are in higher demand. As per the current need, you will easily find three and four wheel inline skates as per your size and taste of style!
Now a significant confusion is what to choose among four-wheel rollerblades and inline skates 3 wheels! In this case, a straight option is to only know about which purpose they have been designed and made. Next, it is up to you, your requirements and preferences about which one would you choose as your favorite pair of skates!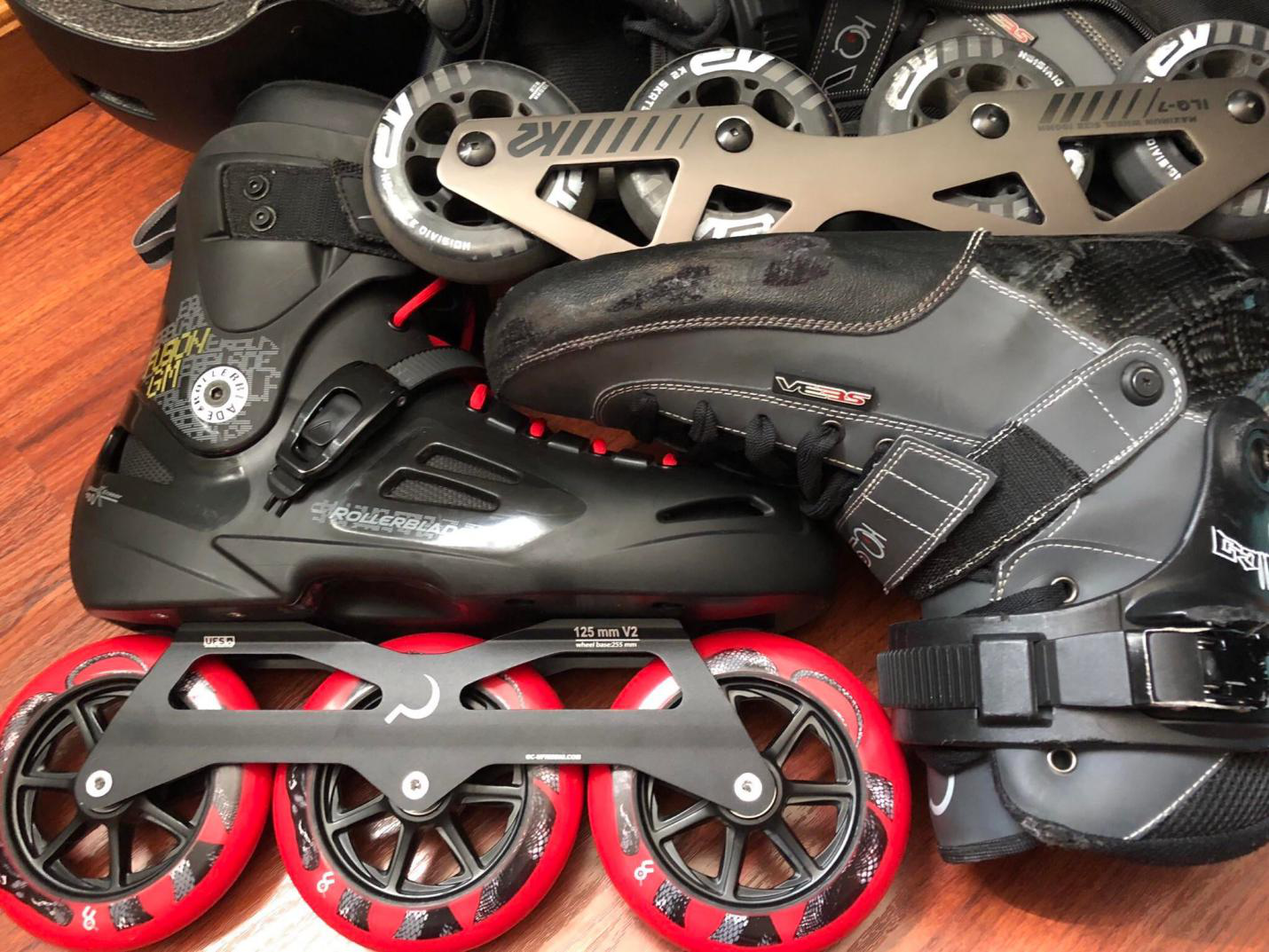 So the whole article concludes that if you are a beginner, you should start with four-wheel inline skates. It can better help you learn the basics of skating and fewer chances of falls or accidents due to the ample amount of stability in them.
It will not take much time for you to learn even the advanced skating skills on the quad inline skates. After then, once you are confident to handle your body and make a complete balance by self, then you should switch to three wheel Rollerblades. So, you will upgrade your skating skills on a faster pair of skates with better maneuverability to even sports or professional level!