Everything You Should Know about Children's Roller Skating
Mar 18, 2021 by eagleskates
If you are a parent and want to know everything about childrens roller skating, then youre at the right place. Roller skating is a fun activity that can provide your kid with a healthy body and mind.
If you are thinking about teaching your kids how to skate, then its the best option. Teaching your children skating can be a fun a different experience. We know that you have any questions about children roller-skating; thats why youre here. Read on to learn about everything you should know about childrens roller skating.
Below are some of the things every parent should know about childrens roller skating:
1. Perfect Age
It is a frequently asked thing that every parent wonders about. As roller skating is getting famous among children, parents are wondering whether their kids should learn it or not. So here is the answer, your kids can start learning roller skating as soon as they start walking on their feet. A two to a three-year-old child can quickly learn to skate with proper training. But, remember that every child is unique, and their body strength is different from each other. If your child has unsteady steps, he cannot learn skating because balance is the key.
2. Proper Skating
A 2-4 year child with proper strength and stamina can quickly learn roller skating. You as a parent should always consider your kids physical energy before buying a skate. Always buy a pair of skates that fits the needs of your kids properly. Teach your children how to maintain their balance and how to put off the glide with their skate shoes. Also, with proper skates, it is essential to teach your kid as young as possible. If a child starts learning a sport at a young age, there are many chances of improvement over the years.
3. Best Skates for Kids
Quad skates are one of the easiest skates that kids can learn quickly and efficiently. Quad skates come with two wheels at the front side and two wheels at the backside. For kids, these are some of the easiest skates to start learning skating. If your child is good at maintaining his balance and knowing basic skating, he can go for the inline skates. But, always remember that inline skating can be challenging for some kids, so its essential to understand your kid.
4. Right Material of the Skates

Choosing the right skates with the suitable material might be a daunting task, but its essential for your kids. Always make sure that the skates that youre choosing for your kids fit them easily. Dont buy skates with hard wheels because it causes high speed, not ideal for kids. Your kids need soft wheels at the start, and you can upgrade their wheels with age and experience. Also, always buy adjustable skates for your kids that fully fit their feet. Loose skates can cause blisters, and your kid might get injured, which is dangerous. Buying adjustable skates will save you money because you dont have to buy new skates each time.
5. Choosing the Right Skate Size for your kid
It is an important one, and many parents often dont know the right size to buy for kids. Kids grow pretty fast, and as they grow, their shoe size also changes drastically. Your kids standard shoe size and roller skating size should be the same, so no need to worry here. Always check the skate sizing chart against your childs feet to avoid exceptions. Buy a skate that fits your kids feet perfectly; an open skate might cause serious injury to your kids. Remember that if you bought free skates wearing socks to make them fit is not a solution. You can make your kids wear one pair of thick socks so they can start learning. The sizes of the kids for skating comes from Junior 1 to up to 13. As soon as your child grows, they can wear adult sizes starting from 1, 2, 3, etc.
6. Buy online skates or In-Store
Buying online or in-store is not a problem here; the problem is quality. Always buy leather skate shoes for your kids as they are durable. Buying skate shoes from a professional skate shoe shop can go a long way. It would be best if you considered your kids needs to learn skating without any injuries.
7. Indoor Skating or Outdoor Skating
When you teach your kids the skating art, you might be wondering if they skate inside or outside. Well, your kids can learn both indoor and outdoor skating with some measures. If your kid wants to learn indoor and outdoor skating, buy them two pairs of roller skates. Buy one pair of roller skates for indoor skating and another pair of skates for outdoor skating. Considering the material of wheels is crucial when buying skates for skating. Remember that the wheels of the skates for outdoor skating are always soft. The reason for their smooth wheels is because they can absorb vibrations from rough terrain. Soft wheels of the skates provide better grip when doing outdoor skating. Always buy cheaper skates for outdoor skating and spend some extra bucks on indoor skates. As we all know, outdoor skates have to go through the dirt, so you must buy cheaper ones to replace them.
8. Best Gear for Skating
Roller skating is a fun activity, but safety is also essential with this activity. Therefore, buying necessary safety gear like knee and elbow pads and helmet are essential. Wear safety gear that can help your kid with safety during outdoor skating. A Stopper can also use braking power and always buy the best toe stopper with large footprints.
Benefits of Skating for Children
There is a bunch of roller skating for children. Below is a list of benefits of skating for children:
1. Mental and Physical Benefits
Skating can help your child mentally and physically because its the best form of exercise for kids. Every kid needs at least one hour of daily physical activity to function correctly. Teaching your kids roller skating at an early age can help them later in their life as a sportsman. Roller skating is an excellent way of exercise, and exercise helps a childs cognitive ability.
2. Social Outlet
Another essential benefit of roller skating is that it provides a social outlet for kids. Kids feel motivated to learn skating when they meet fellows with the same interests. By participating in different skating clubs, your child becomes socially mature and confident. Skating is an activity that embarks confidence in a child, and competing helps spark that confidence.
3. Brain Development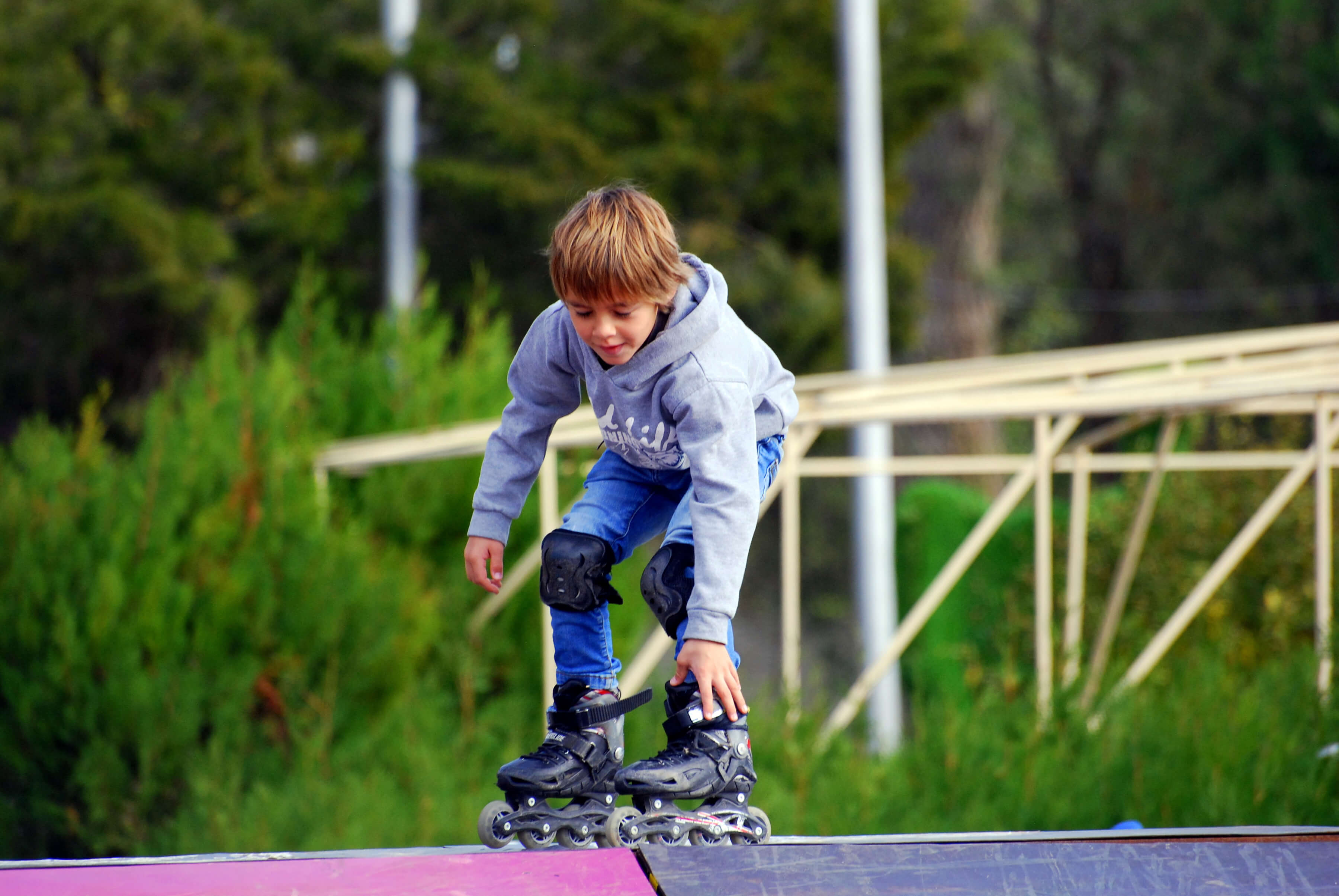 We talked before about how exercise can help a childs cognitive abilities. Roller skating helps in the brain development of the child, which increase their problem-solving skills. Increased cognitive abilities of the child help them in school and then can do different tasks easily.
4. Teaches New Skills
Roller skating helps the kids learn different new skills like new tricks and maintaining their balance. Roller skating help kids to know their body wells and help them explore their limits.

Dos and Donts of Roller Skating
There is no doubt that roller skating can be a fun and profitable activity for kids. But there are many things you should consider when teaching your children roller skating.
DOS
Sign up your kids for roller skating classes, whether online or on campus. You can teach your child skating, but they need a mentor to learn different techniques. Having a professional teacher for your kid will benefit them in the long run for good.

Always support and motivate your kids in what they do. Children often get bored from roller skating and need mental motivation. Saying encouraging words to your kids can help them push off their limits.

Never push your kids to learn skating in less time; instead, give them their own space. Pressurizing your kids can affect their physical and mental health, which is not suitable for them.
DONTS
Avoid lifting your child while skating because it might cause them an injury. If youre a professional who knows how to skate, you can lift them; otherwise, its dangerous. Raising your child while wearing skates can cause them severe injury.

Dont be impatient with your kid learning because not everyone can learn skills quickly.

If you hire an instructor for a child, never interrupt his teaching. Kids need to get guidance from their teachers. If you interrupt the teacher, this might harm your kids learning.
Wrapping It Up!
Roller skating is indeed the best activity to learn for the kids. This activity can help your child a lot later on in their life. There are many essentials a parent should understand about roller skating for kids. We hope that we answered your every question about childrens roller skating. Keep the things mentioned above in mind to provide your kid with the best experience.